Katharine Gerson DeBolt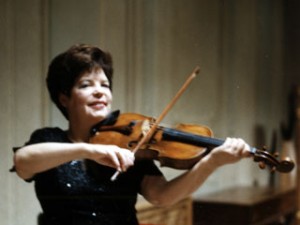 Katharine Gerson DeBolt, violist, performs in many concert halls of the world as a member of the Kent Camerata, a vocal/instrumental ensemble founded in 1995. Since then, the group has appeared in Italy, Germany, France, Ireland, Canada, and China, as well as in many areas of the United States.

"The concert reaches the summit of lyricism with a moving rendition for viola and piano of the Märchenbilder, Op.113 by Robert Schumann by the truly skillful Gerson-DeBolt." (Oliviero Marchesi, Liberta, Milan/Piacenza, Italy)

Mrs. DeBolt is a member of the Cleveland Opera Orchestra, and formerly was the assistant principal violist of the Kansas City Philharmonic, principal violist of the Tulsa Philharmonic, and a member of the Mozarteum Orchestra, Salzburg, Austria. A viola student of Max Aronoff, William Berman, and Joseph DePasquale, she earned degrees at Oberlin Conservatory and the Ohio State University.

Both comments and pings are currently closed.